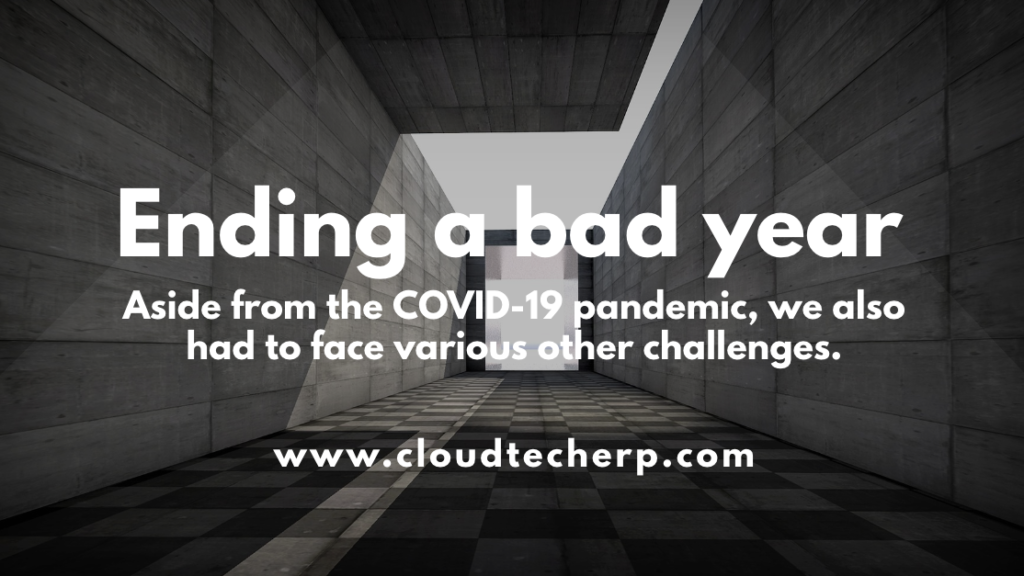 We are nearly halfway into the 11th month of a challenging year. With all the challenges and difficulties it foisted on us, I can't wait for 2020 to be over. Can you?
In large part, it was the virus that dampened our spirits all year long. We worried about our health and our loved ones' health. We saw business activity grind to a near-stop, and witnessed the devastating effects of the lockdown on bottom lines and on employment. Most of all, the uncertainty prevented us from making plans. Many of us felt that we lost control even of things familiar to us, things we used to take for granted.
Aside from the COVID-19 pandemic, we also had to face various other challenges. In January, a volcano spewed ash into the air, and then in the rainy months, a succession of typhoons devastated communities in different parts of the country. There were bad politics, untimely deaths. It almost felt like a bad dream.
These last few weeks of 2020 however give us reason for hope. As I write, Americans have just chosen a new leader, one who they feel would be better able to lead them during a time of grave public health emergency. These days, there is a premium on stability, predictability, and a respect for empirical data.
There is also the promise, finally, of a vaccine against the dreaded virus that has sickened more than 50 million and caused the death of more than 1.2 million across the globe. To be sure, we have a long way to go. The vaccine, while encouraging, needs to complete its trial run. After that, the large-scale manufacturing and distribution will need to be figured out. Still, this piece of news has buoyed stock markets around the world. If – when – we get that vaccine to as many people as possible, and then perhaps we can imagine what "normal," even a new kind, could be like. And then perhaps business would stir back to life, in earnest.
For the rest of us, and I have mentioned this before, the pandemic offered the opportunity to stop and rethink how we have been conducting business. It forced us to look at old practices and evaluate whether they were really best practices or just habits we became used to. It allowed us to reorder our priorities.
Now we have reason to look forward to many things again.
Make no mistake about it – we have to remain as cautious as ever, and protect the health of individuals, families and organizations alike by observing strict protocols. But we have learned, too, that staying healthy and reviving business activity are not mutually exclusive. We can get back to work and build back from what we have lost.
This year was something else, indeed. But 2020 also gave us precious lessons and opportunities. As we prepare to end this calendar and turn over a new leaf, let us be driven not only by hope but also by confidence. We have all been tested and purified this year. Let's put these lessons to good use.
Martin