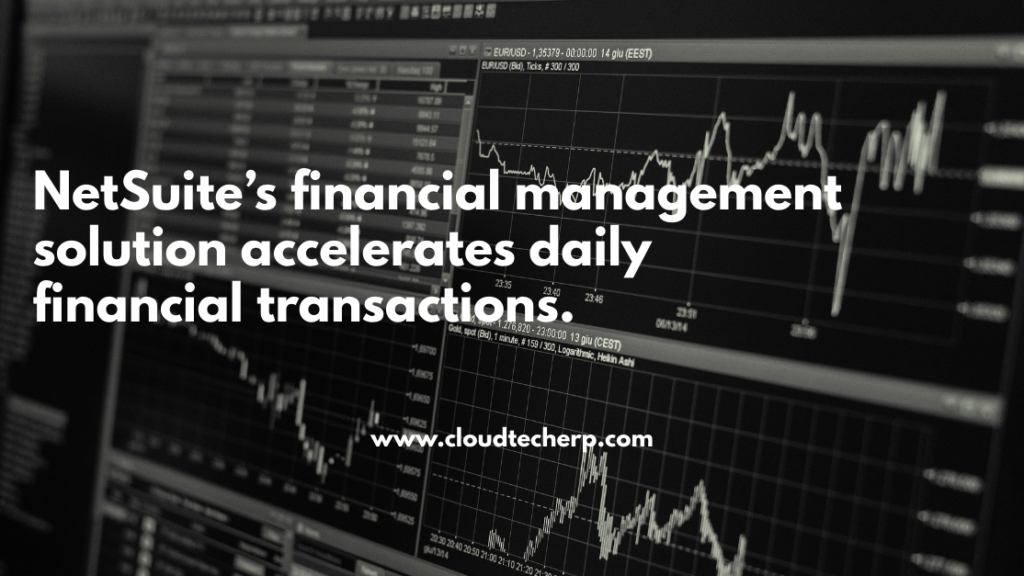 Used by thousands of organizations worldwide, NetSuite's financial management solution accelerates daily financial transactions. Its comprehensive cloud-based single platform architecture ensures complete real time visibility into integrated financials with its accounting-intelligent capabilities.
Finance teams can manage, monitor and report the book value and depreciation of fixed assets of the company. It also helps configure business processes and workflows. Payments from customers are secure and reliable. It provides a proper security, ensures compliance, and clear audit trail visibility. With complete visibility, users can easily eliminate errors and reduce the reliance on spreadsheets. Close with confidence quickly and accurately while maintaining compliance with applicable accounting standards.
Financial Planning and Budgeting 
NetSuite Planning and Budgeting offers a market-leading functionality across lines of businesses. It allows all sizes of businesses to quickly and easily adopt world-class planning and budgeting applications. It presents integrated results in a timely manner.
Financial teams can compare, analyze, and model unlimited "what if" scenarios with actuals versus projected results regularly to refine forecasts accurately. It automates labor-intensive planning and budgeting processes and centralizes budget with forecast and provides a single version of truth. Reporting across the organization is self-service and easy-to-use.
Budgeting is distributed via two separate versions, ensuring that the Planning and Budgeting offering is received in a manner that best suits the business.
Revenue Management
Financially intelligent capabilities help companies automate revenue recognition to report results. NetSuite's Advanced Revenue Management solution helps companies comply with accounting standards including ASC 605, 606, and IFRS 15. It generates and dispatches invoices automatically. To attain upsell and cross-sell opportunities, businesses can schedule renewals automatically or set reminders in advance.
With one system, users can combine all stakeholders, from sales and service reps to finance managers and executives. Revenue recognition will help them schedule, calculate and present financial statements accurately.
Procurement
NetSuite's procurement solution helps businesses buy the best goods and services in a timely manner. With its simplicity, intuitive user interface makes it easy for users to engage with the system and save employees' valuable time, reducing cost by directing purchases to approved suppliers and pre-negotiated contracts.
By automating and linking key procurement transactions NetSuite maximizes the accuracy of the procure-to-pay-process, and the timeliness of users' timesheet and expense processes with online self-service tools. It also provides approval and matches workflows to support internal controls and enforce compliance requirements.