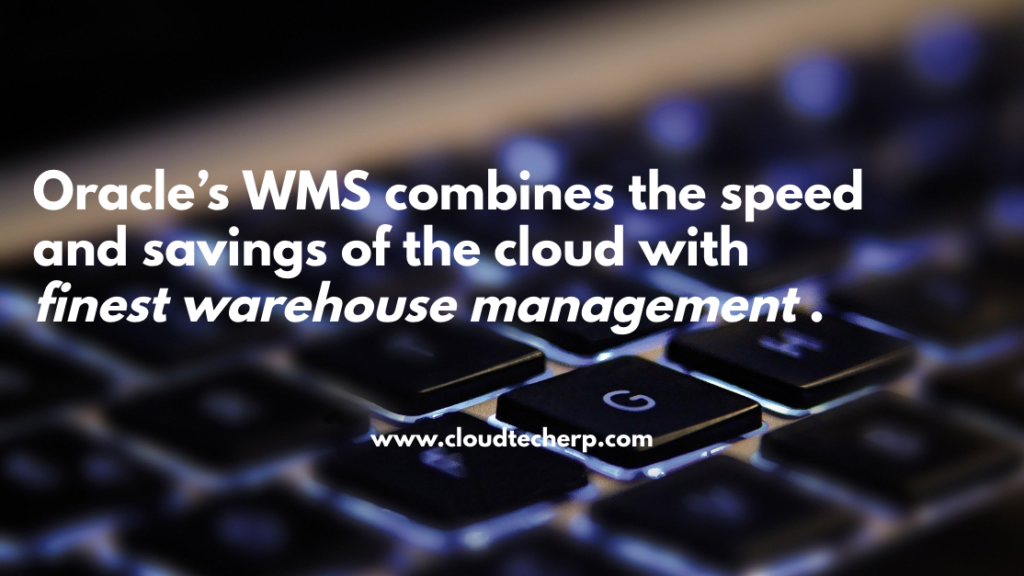 Oracle Warehouse Management Cloud (WMS) is the leading cloud-based inventory and warehouse management system. It helps businesses thrive by enabling best business practices across any type and size of facility.
Intuitive and easily configurable for a fast, cost-effective implementation. Oracle's WMS combines the speed and savings of the cloud with finest warehouse management and fulfillment capabilities while giving companies a 360 degree view of their inventory. Users can support complex fulfillment operations, improve the accuracy of inventory and shipment, and deliver an unprecedented visibility and control from warehouse to the store shelf.
Modern Warehousing
Users can maximize space utilization and minimize material handling by eliminating unneeded put away. They can improve labor productivity with directed activities and elimination of paperwork and manual data entry. With complete, real-time inventory visibility, lower safety stock levels and increased warehouse accuracy, users can reduce inventory costs.
By supporting multi channel demand and execution processes, customers can buy anywhere, fulfill anywhere and return anywhere.
Warehouse Workforce Management 
Regarding their workforce, warehouse managers can gain better visibility into their operations and workforce to maximize the efficiency of the warehouse and store operations, raise overall performance, and improve accuracy.
With Key Performance Indicators (KPIs), companies can manage and track employees' performance based on quantifiable goals. Users can also set material handling goals for warehouse tasks and value added service activities.
Warehouse Intelligence 
The warehouse management intelligence cloud dashboard is simple and intuitive. It enables real-time operation analysis, reporting and alert management. Receive summarized insight into warehouse operations and key performance metrics.
Companies can analyze warehouse throughput, and monitor warehouse operations with its leverage reporting, alerting and scheduling capabilities
Oracle WMS for Wholesale 
This is total inventory management for wholesalers. It is essential for wholesalers to understand their entire logistics network, from distribution center to outlet. Oracle's WMS provides full inventory visibility so wholesalers can ensure fewer instances of order errors and prevent stockouts.
Oracle WMS for E-commerce
Oracle Warehouse Management Cloud Service helps users to align e-commerce fulfillment technology to e-commerce sales. Omnichannel functionality enables complete warehouse and logistics fulfillment from any device. Users can transform any site into a seamless fulfillment center. They can leverage throughout inventory management, from manufacturer to distribution to store to customer.
Oracle WMS for Manufacturing
Oracle's WMS assists manufacturers to understand their inbound, inventory and outbound operations and improvements where and when needed. They can gain complete visibility, increase efficiency, significantly reduce order errors and make more informed business decisions.
Oracle WMS for Third-Party Logistics
Oracle users can react quickly in a constantly changing industry. The rapid increase in omnichannel marketplace demands more innovation so shippers expect third-party logistics (3PL) providers to offer more technical and professional services. They can meet the customers' demands with the power of Oracle's WMS. More importantly, they take advantage of new opportunities and drive revenue with the agility to react quickly.